About Us
America's Premier Wilderness Resort
In the midst of hectic lifestyles, with our faces pointed toward our smartphones, it is easy to lose sight of the robust beauty that comes from Mother Nature herself. Located deep within the Ozark Mountains is a world-class resort that offers an escape into the immersive relaxation of the great outdoors, with all the comforts of home. Big Cedar Lodge is a remote haven of natural beauty that truly brings conservation to life through nature-inspired accommodations, immersive wildlife attractions and breathtaking views. Inspired by a commitment to conservation, Johnny Morris, the founder of Bass Pro Shops, created Big Cedar Lodge to encourage visitors and their families to connect with the great outdoors.
A Word From Our Founder
---
You'll quickly escape to another world as you meander down Big Cedar Lodge's winding road and are greeted by a groundskeeper waving to you as you pass by. Our team has a genuine focus on creating unforgettable memories for you while you're surrounded by the beauty of the Ozarks and true Ozarks hospitality.
There is much to discover! Big Cedar Lodge is a tribute to the magnificence of nature, the solidarity of history and the joy of family. We are a one-of-a-kind resort dedicated not only to preserving the soul of the wilderness, but in restoring your soul as well. Here, within a setting of incomparable natural beauty, you'll stay in dramatic lodge-style accommodations, enjoy world-class recreation and amenities, and be catered to by a friendly, attentive staff.
Whether it's a family vacation, romantic getaway, special event, corporate retreat or sales meeting that brings you to our door, we promise you an experience that you'll never forget.
Welcome!

Johnny (John L.) Morris
Founder Big Cedar Lodge & Bass Pro Shops
Big Cedar Lodge is a tribute to the magnificence of nature, the solidarity of history and the joy of family. "
- Johnny Morris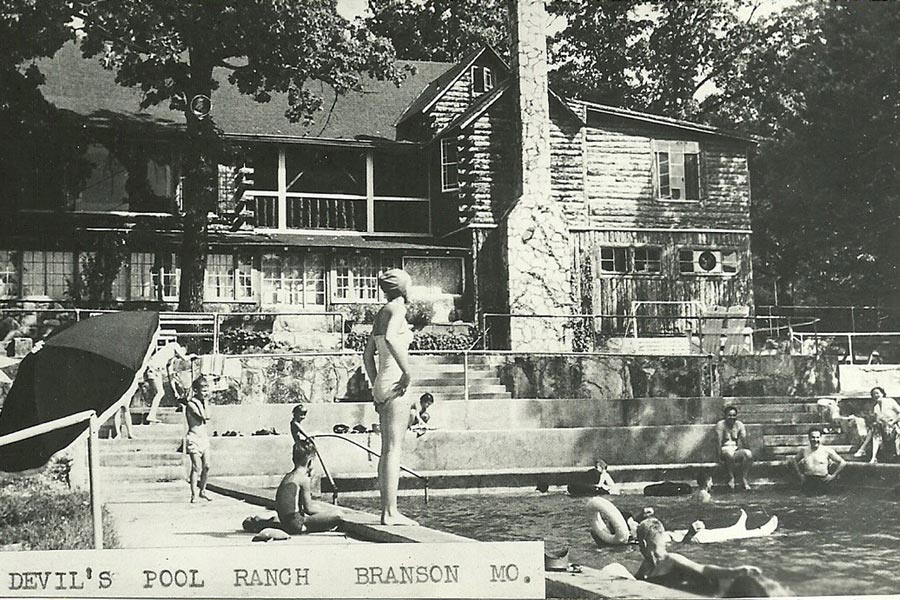 History
---
Tucked away in the heart of the Ozark Mountains, Big Cedar Lodge was occupied by Native Americans for over a century. Shortly after the turn of the twentieth century, railroads expanded through the area, transforming this everyday world into a vacation paradise.
In the 1920s, two Missouri natives, business entrepreneur Jude Simmons and Frisco Railroad executive Harry Worman, acquired 300 acres of forest and built lavish country resort homes on the land known as Big Cedar Hollow along the White River.
Simmons created a log mansion, while Worman constructed a Tudor-style retreat made of stone and stucco. Both homes were built with native materials, which are still on display at Devil's Pool Restaurant and The Worman House.
Travel became more difficult during the Great Depression, and the Simmons and Worman families spent less time in their wilderness retreats, eventually selling the property to a logging firm. In 1947, Dan Norris, a real estate executive and hotel operator purchased the property. Norris added a lodge, swimming pool and stable, creating Devil's Pool Guest Ranch. In 1958, the White River was dammed to form Table Rock Lake, setting the stage for the premier wilderness resort in the Ozarks, Big Cedar Lodge.
Bass Pro Shops' founder, Johnny Morris, purchased the property in 1987, restored the Simmons and Worman buildings to their original prominence and began to build a larger wilderness resort.
Today, Big Cedar Lodge is spread over 4,600 acres in its own wooded hollow. It overlooks the 43,000-acre Table Rock Lake, and has quickly matured into the "#1 Resort in the Midwest" according to Travel and Leisure.
Experience the past and present grand beauty as you settle into Big Cedar Lodge today.
Conservation
---
At Big Cedar, we are proud of our environmental efforts to enhance the beauty of the landscape that surrounds us. Our environmental plan accommodates management practices to promote ecologically sound land management, conservation of natural resources, recycling, composting, water conservation and production through our sustainable gardens.
We're concentrated on wildlife and habitat management, responsible chemical product use, water management, energy efficiency, waste management, and education and outreach. From creating our own soil to implementing a linen reuse program, our environment is top of mind in everything we do.
We all live downstream."
- Johnny Morris