Bass Pro Shops founder and noted conservationist Johnny Morris teamed up with World Golf Hall of Fame legend Gary Player to create a world-class 13-hole short course that delivers an unparalleled experience for golfers. Sharing a similar passion for nature and golf, and through a joined pioneering spirit, they created a renowned golf experience for all skill levels. The course routes through unforgettable rock formations and includes some of the most dramatic views in the Ozarks while delivering a rewarding experience for all skill levels. Thousands of hours of painstaking pick and shovel excavations revealed 300-million year old limestone formations, creating an over-the-top experience that golfers will never forget.
ON-COURSE HEALTH & SAFETY MEASURES
During these unprecedented times, time spent in the fresh air is a gift to be appreciated. To ensure we are doing all we can to place a priority on a healthy experience, the following measures are currently being taken:
Golf Pro Shops
No more than 10 people will be permitted inside our pro shops at one time

Hand sanitizer bottles will be readily available on the counters at all times

Our staff will diligently wipe down all door handles, pin pads, and surfaces throughout the day and after each transaction/interaction with guests

Rental clubs will be wiped down in their entirety with disinfectant after each rental, including the club heads, handles, covers, and bag
Golf Carts
Only one person will be allowed in each cart unless accompaniments are family or from the same household as the golf cart driver

Golf carts are sanitized with disinfectant wipes before and after each use

Golf carts are rotated to allow recently used carts to rest for 4-5 days before their next use

Cart towels and sand bottles have been removed from the carts

Associates are required to wear gloves when cleaning, removing trash and restoking pencils, tees, and scorecards
Golf Course
Guests are asked to not touch the flagsticks at any time. Cups have been modified with PVC inserts to prevent guests from having to put their hands in the cup or to touch the flagstick to retrieve golf balls

Our agronomy team is sanitizing the flagstick, cup, and PVC insert every time the cup is moved to a new location

Sand rakes and ball washers have been removed from the course

Driving range stations have been spread out to ensure social distancing
2020 GOLF RATES
Rates subject to change. Price does not include tax. Rates include push cart, driving range balls at Buffalo Ridge Springs, and bottled water on the course.
Course Closed January 1 – March 5
Course Opens March 6
March & April
13 Holes: $50 | Replay: $35
Junior (17 & Under): $15
May – October
13 Holes: $60 | Replay: $40
Junior (17 & Under): $25
November & December
13 Holes: $50 | Replay: $35
Junior (17 & Under): $15
Callaway rental clubs are available for $40, including one sleeve of Callaway Chrome Soft golf balls.
Mountain Top is a walking-only golf course.
---
Dress Policy: Appropriate golf attire.

---
Fall 2020 Aerification Dates
September 14 & 15: Closed for Aerification
September 16 – 24: Aerification Recovery
$40 Aerification Recovery Rate
---
HOLE-BY-HOLE
Before you experience the courses that make up America's Next Great Golf Destination, take a hole-by-hole tour to prepare yourself for the splendor that is Big Cedar Golf.
Hole 1 · Par 3
This short opening hole eases golfers into the challenge ahead. Take in the views, but avoid the left side bunkers on your way to an easy par.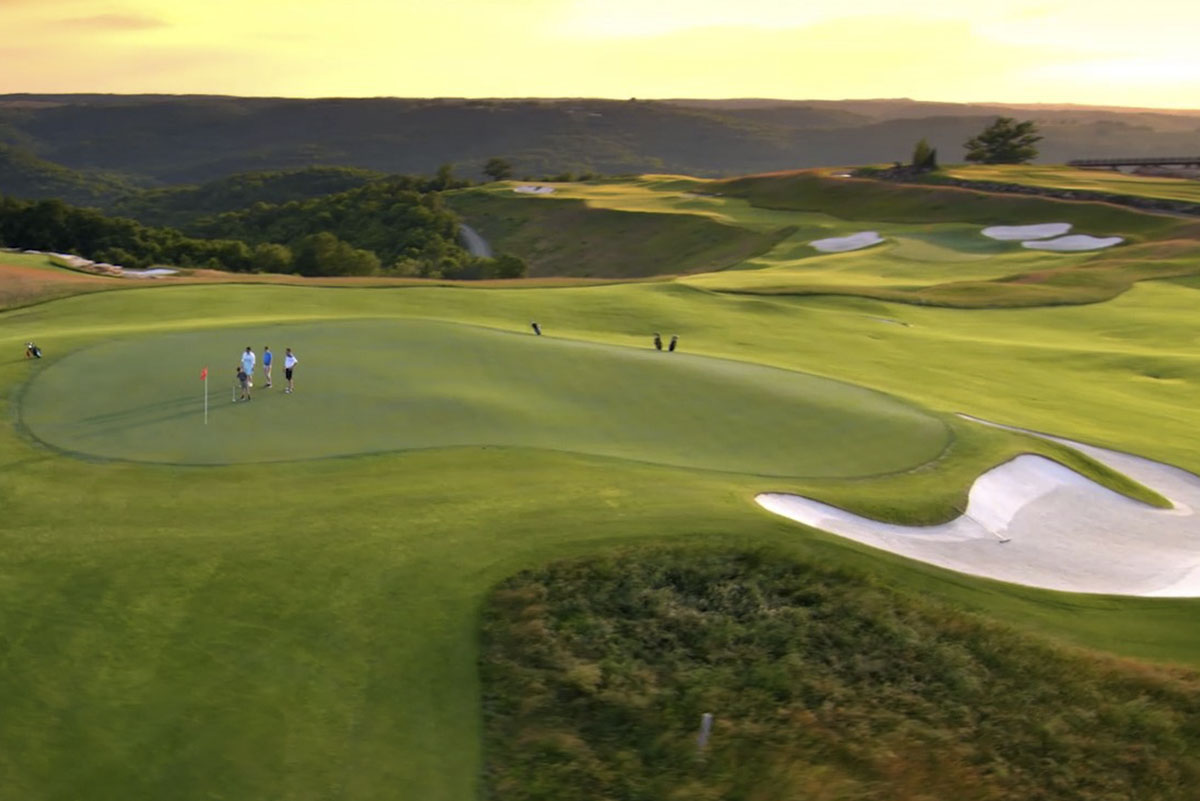 Hole 2 · Par 3
One of the more challenging holes on the course. This long uphill par 3 is made even more exciting by the heavily sloping multi-tiered green and left side bunker. A par here is a great score.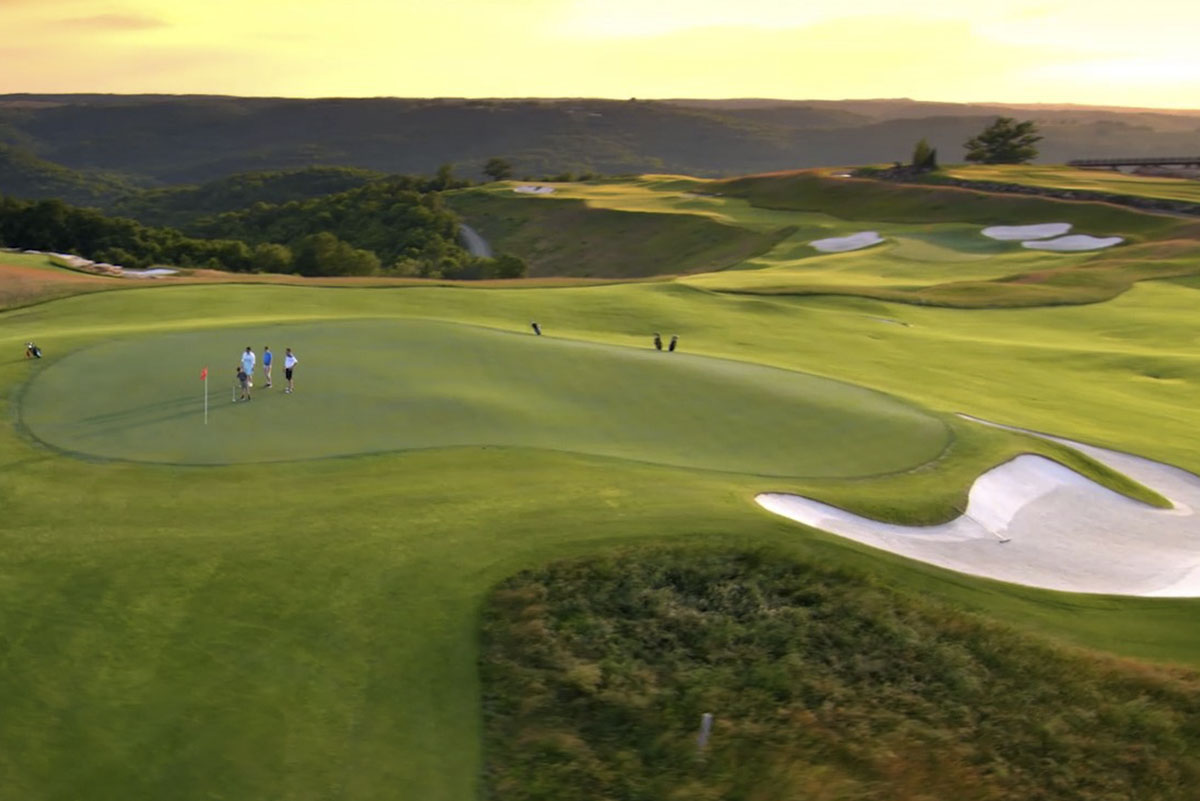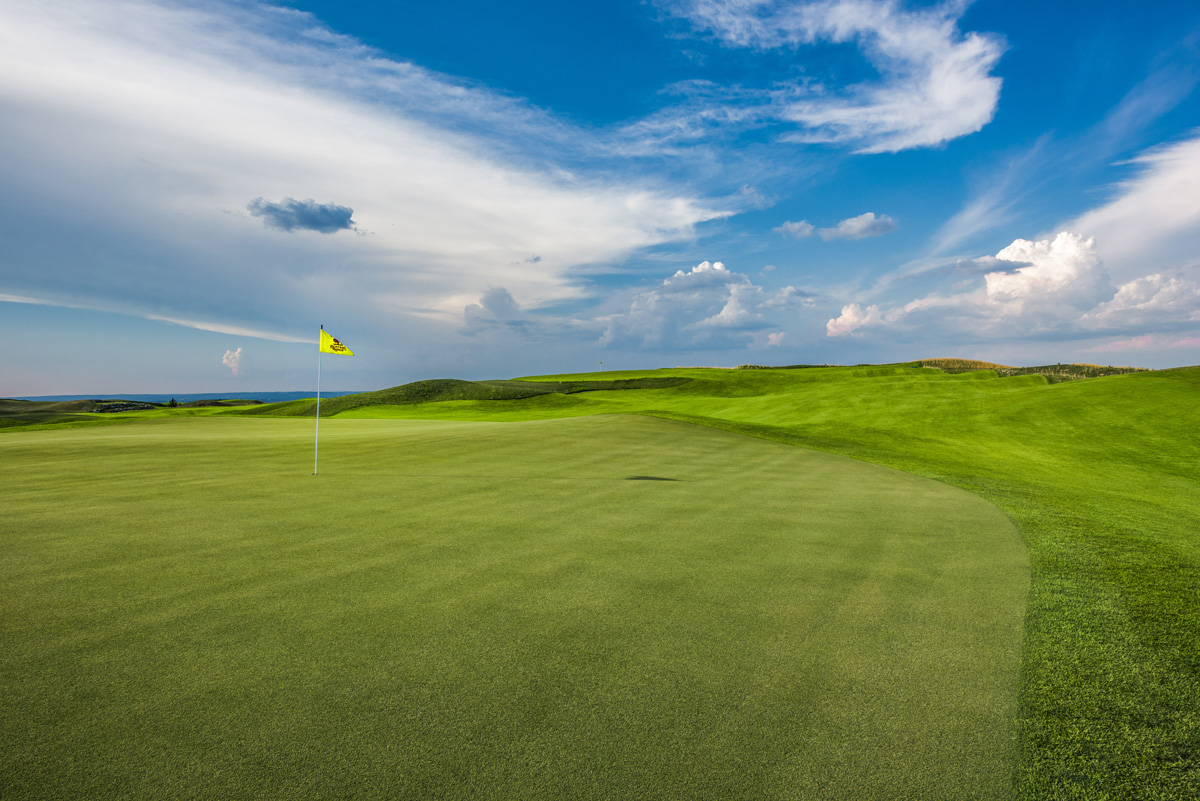 Hole 3 · Par 3
Accuracy is key on this elevated tee box. The green is protected by bunkers short, long and right. Being the highest point on the course, tee shots are easily affected by the wind.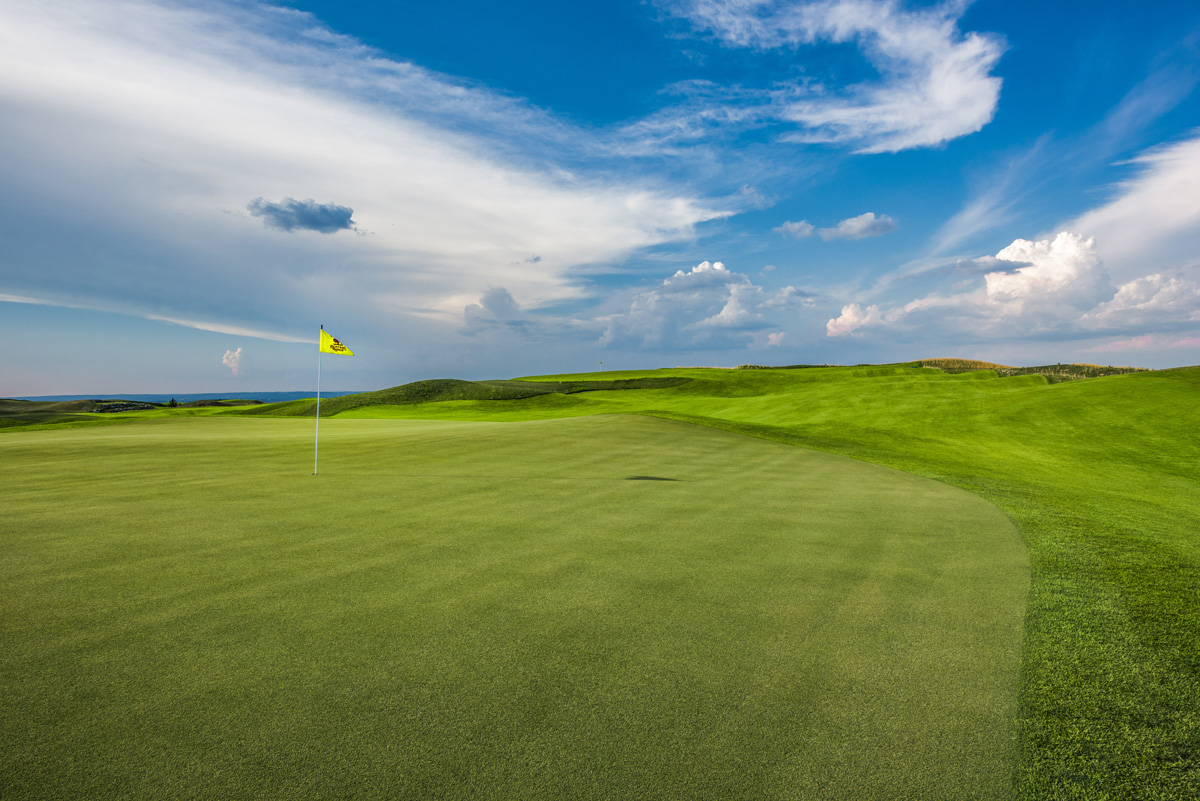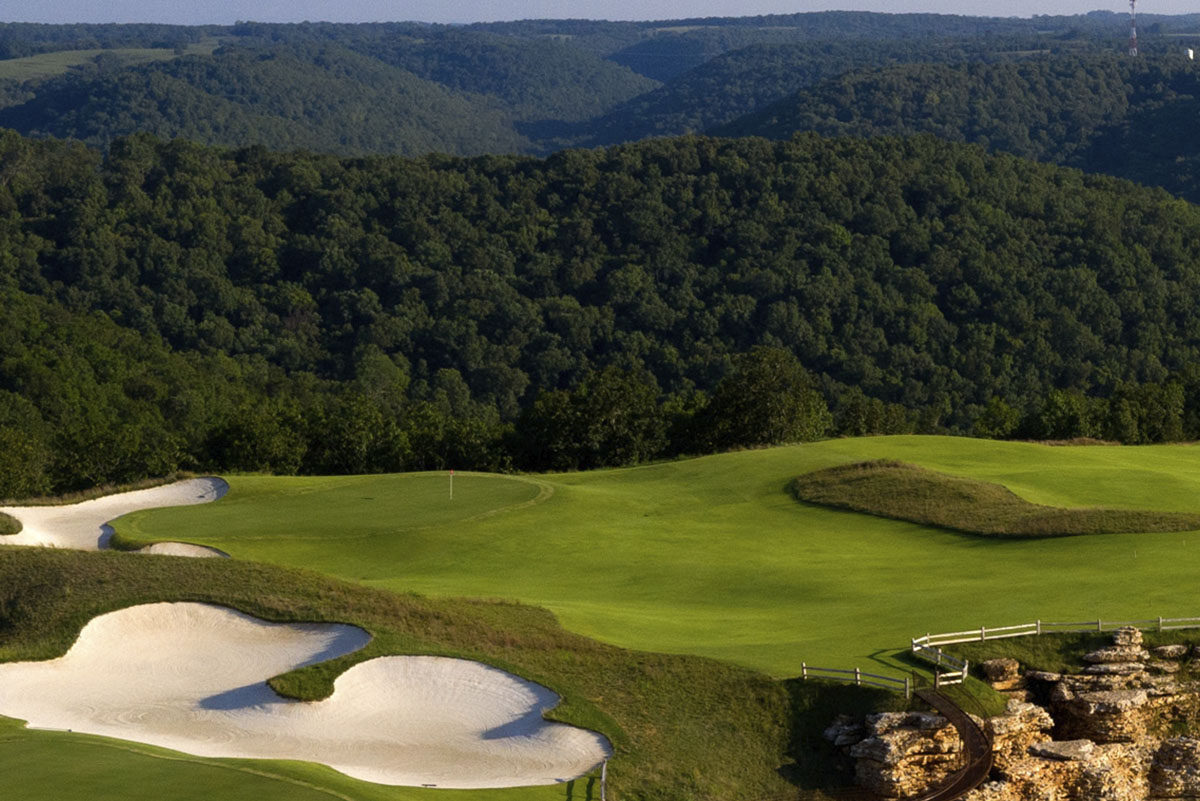 Hole 4 · Par 3
It may be the shortest hole but it's not the easiest. The thin green is protected by a bunker long and a dramatic false front. Make a confident swing to avoid a difficult up and down.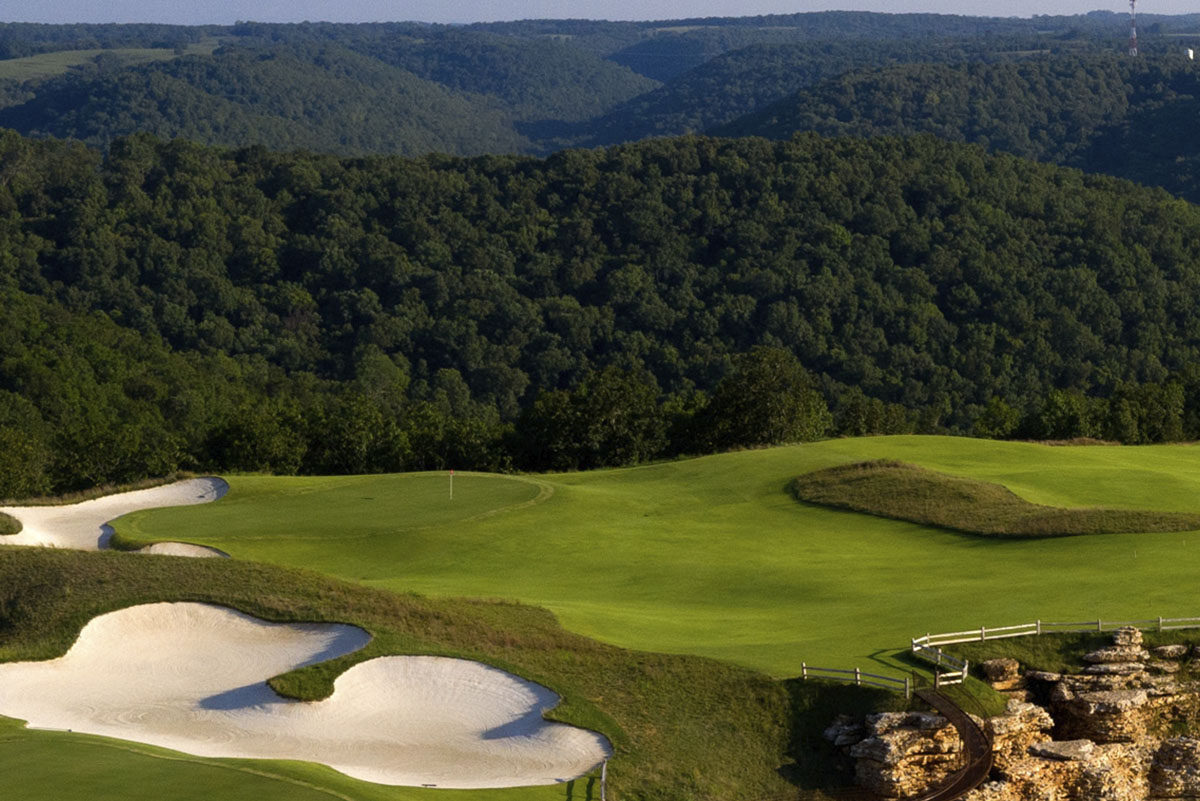 Hole 5 · Par 3
This inviting downhill tee shot makes way to a green that is severely downward sloping from back to front. Too much spin could force your ball to the wrong tier and creating a challenging putt.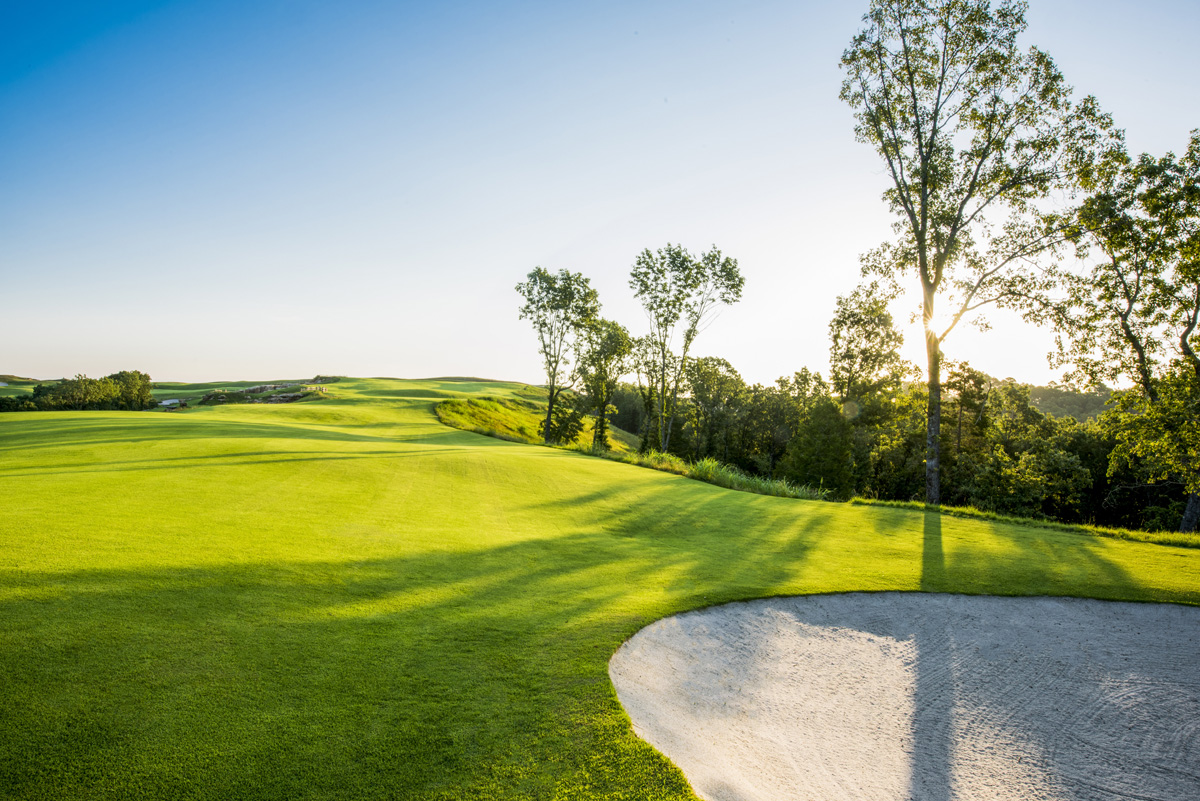 Hole 6 · Par 3
The short par 3 is heavily guarded by bunkers left and right. The three-tiered green can also make for a difficult par depending on the pin location.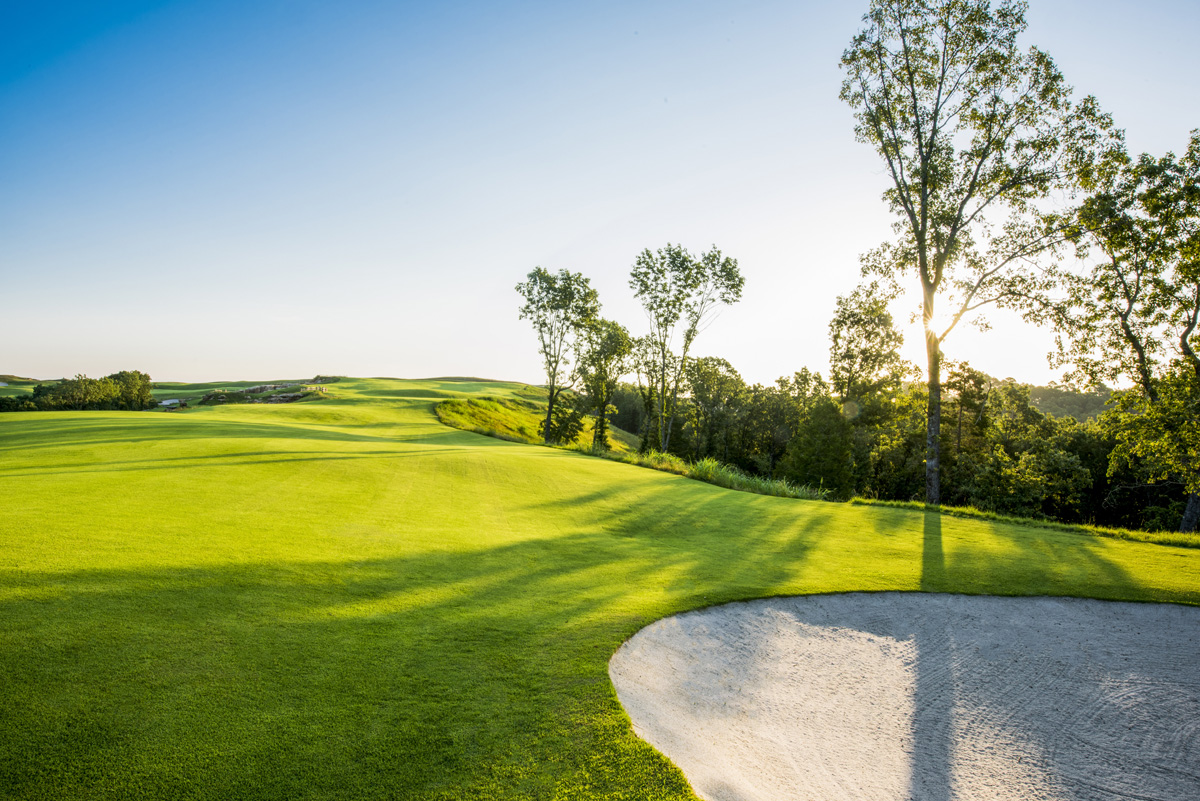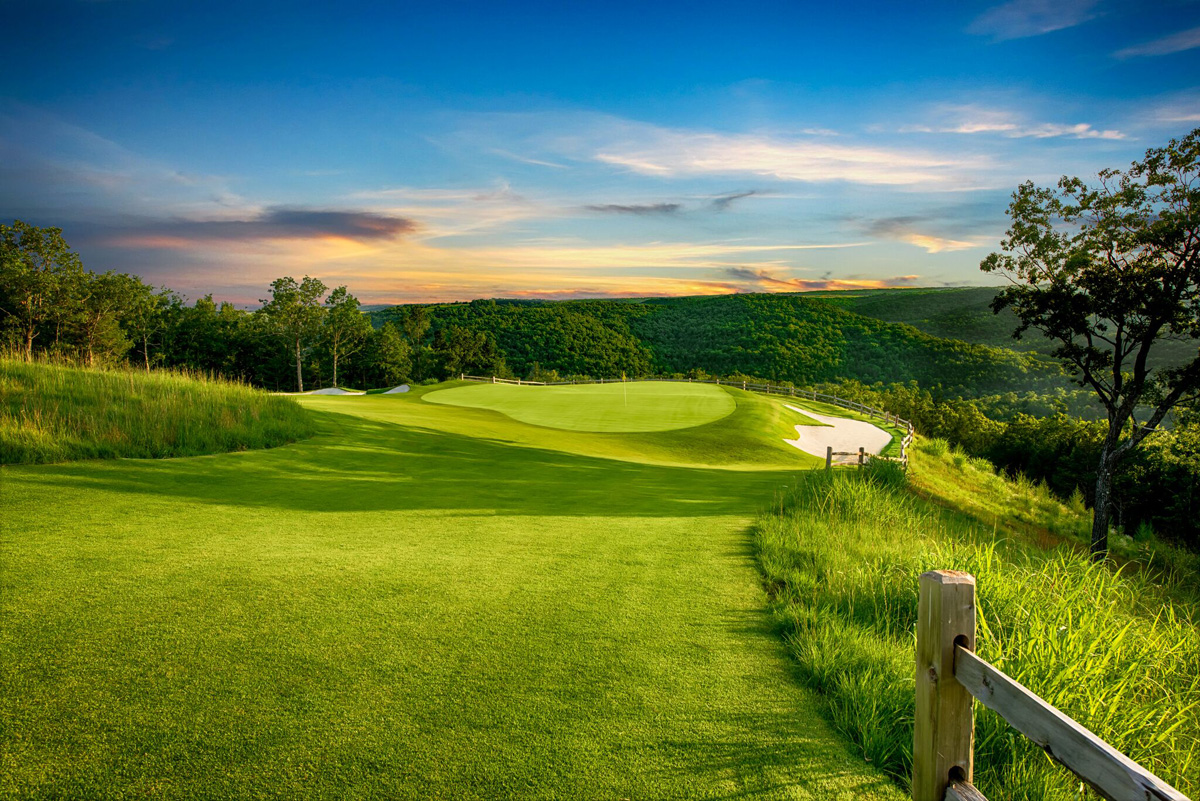 Hole 7 · Par 3
The #7 teebox is one of the most picturesque spots on the course with beautiful views of the Ozark Mountains and the valley below. The downhill par 3 leads to a green that slopes away from the tee boxes making it a challenge to hold the green.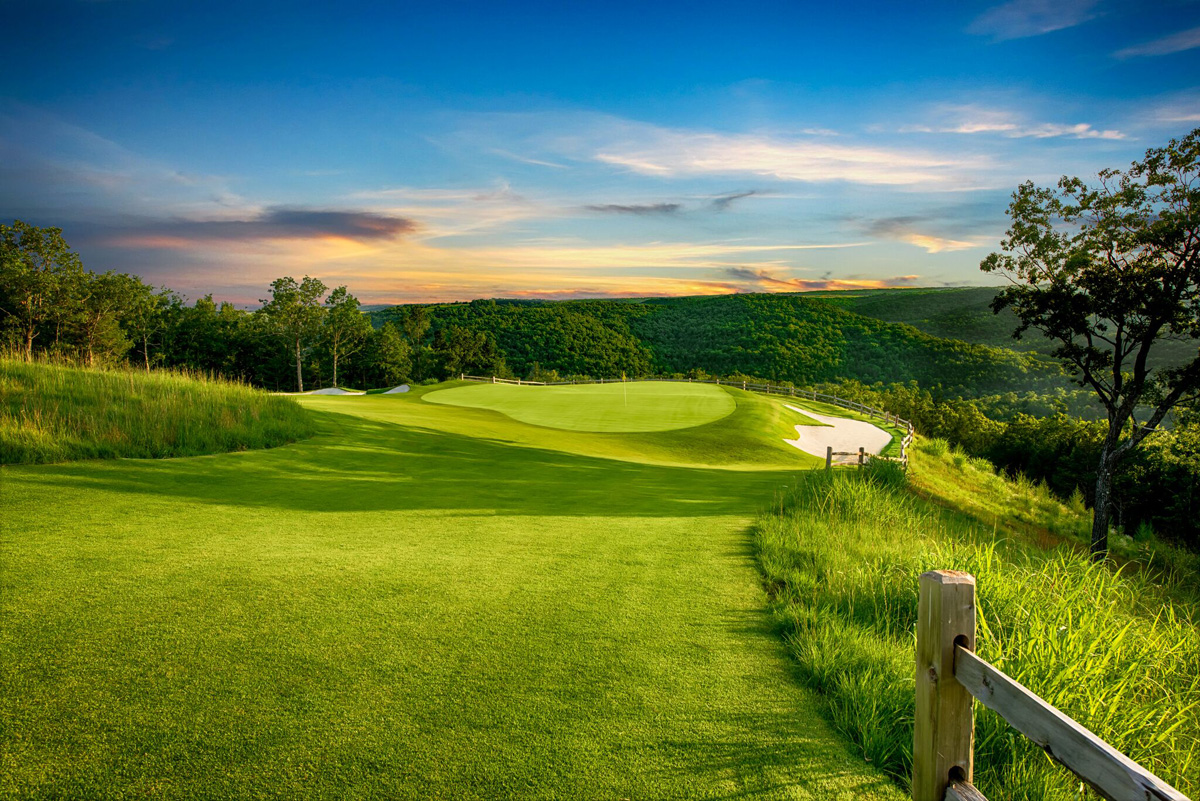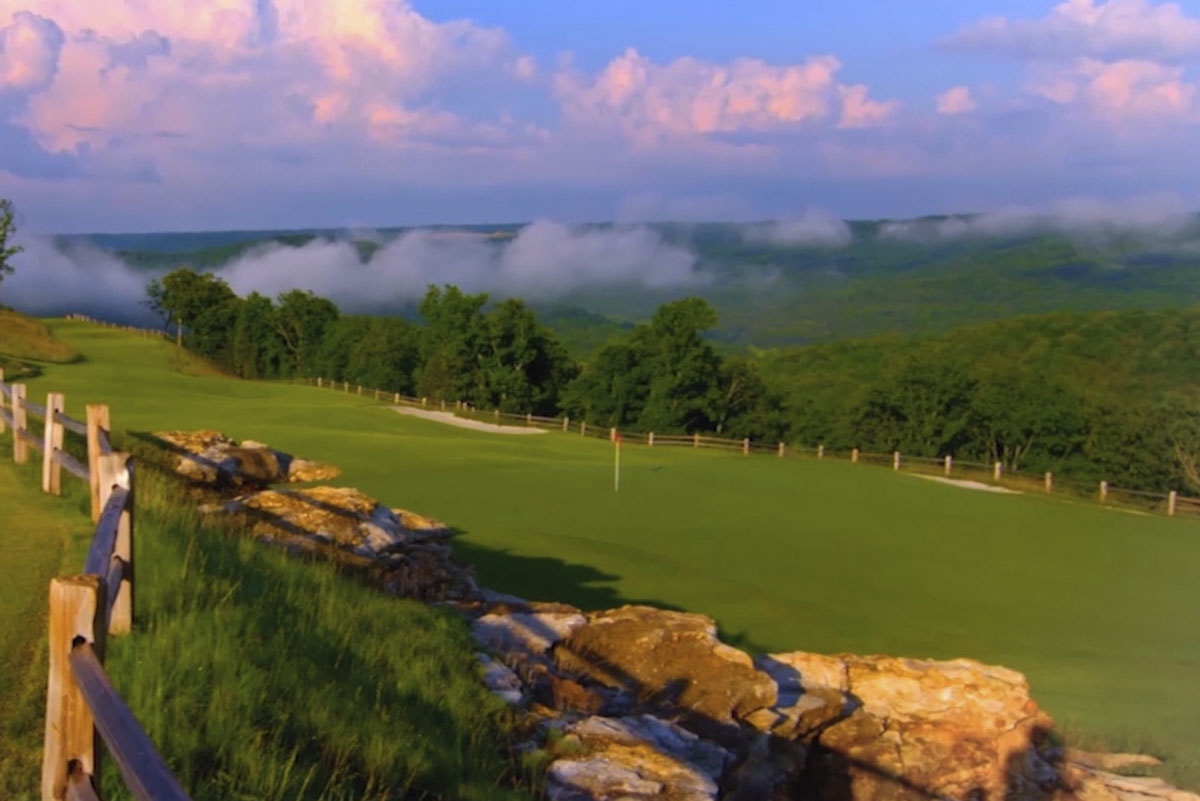 Hole 8 · Par 3
The start of the home stretch. This long par 3 is defended by bunkers left and natural limestone formations on the right.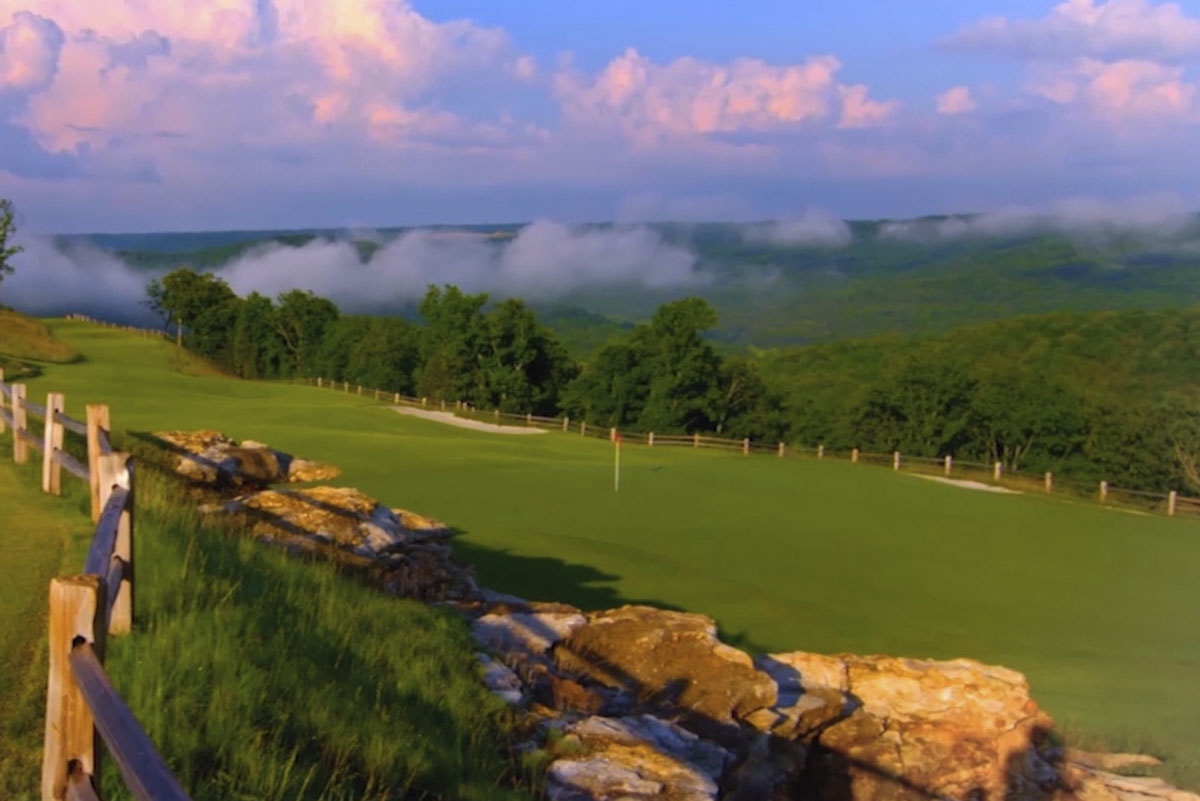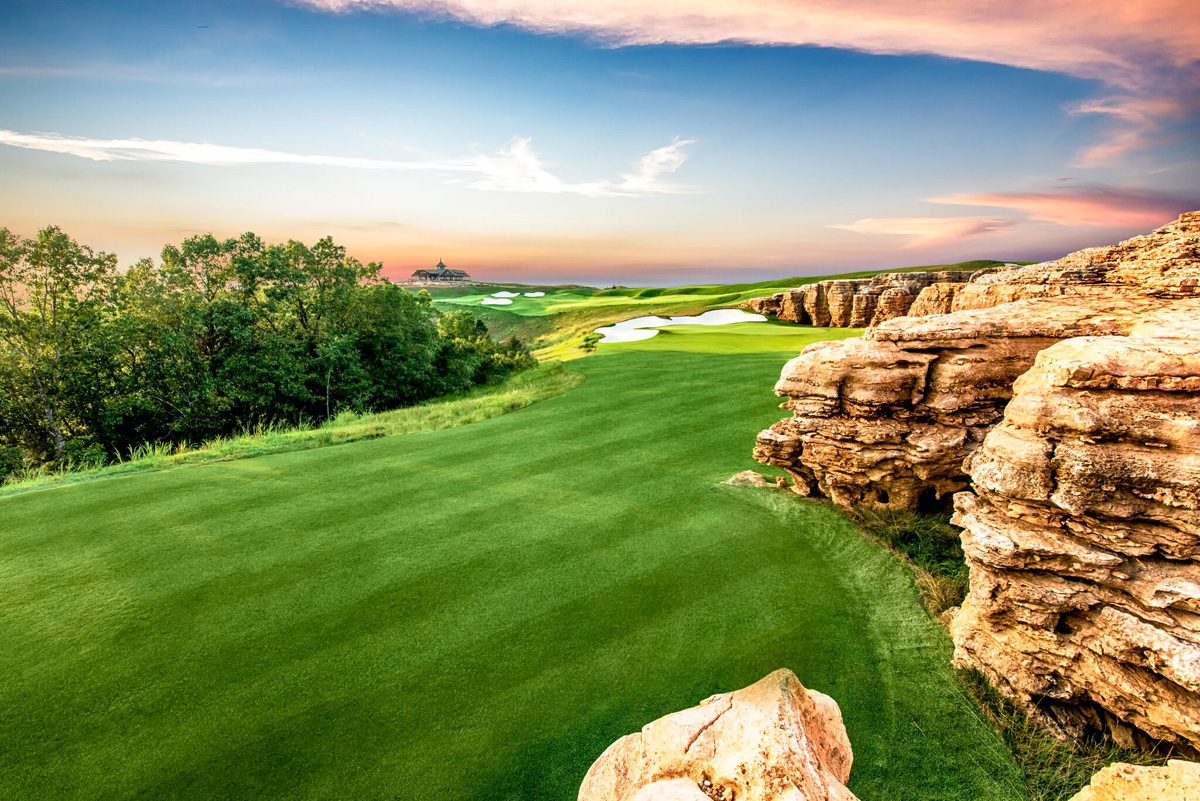 Hole 9 · Par 3
Don't let the limestone rock and caves to your right distract you! This hole is protected by the largest bunker on the course. Hit a focused tee shot to the green that slopes downwards from right to left. Exit right to the catwalk…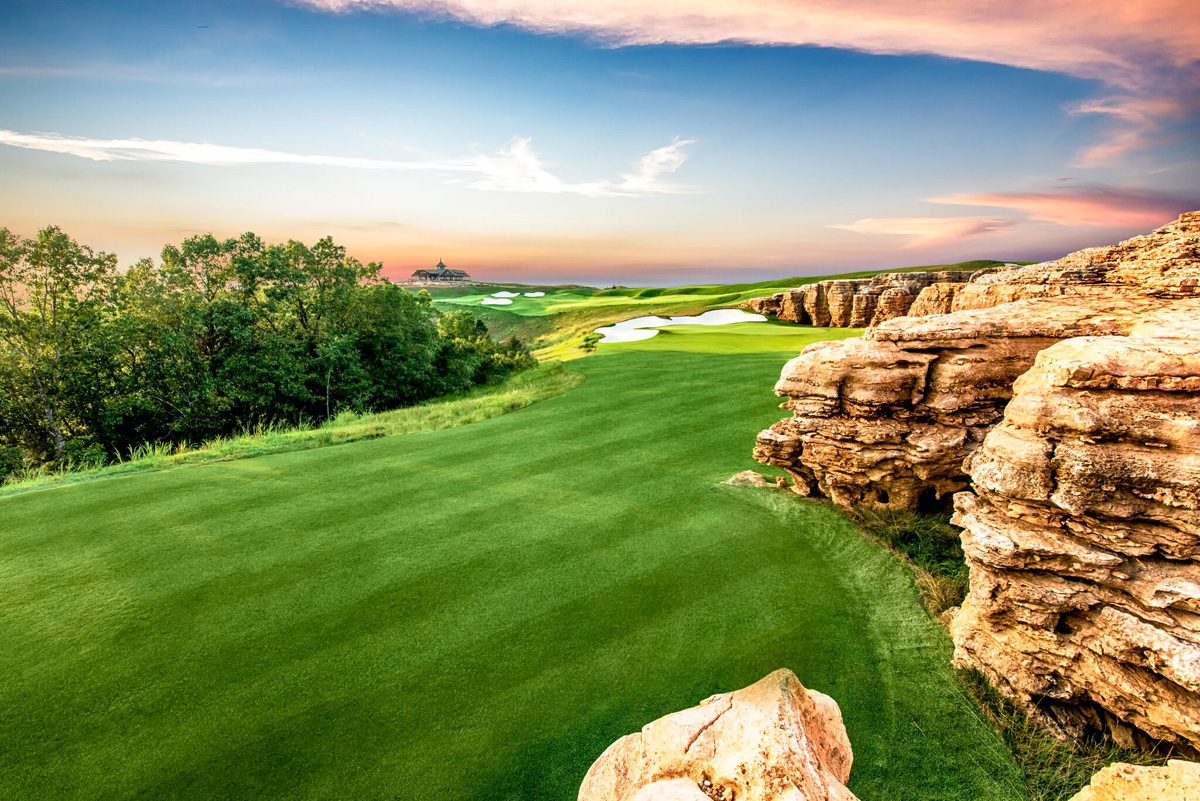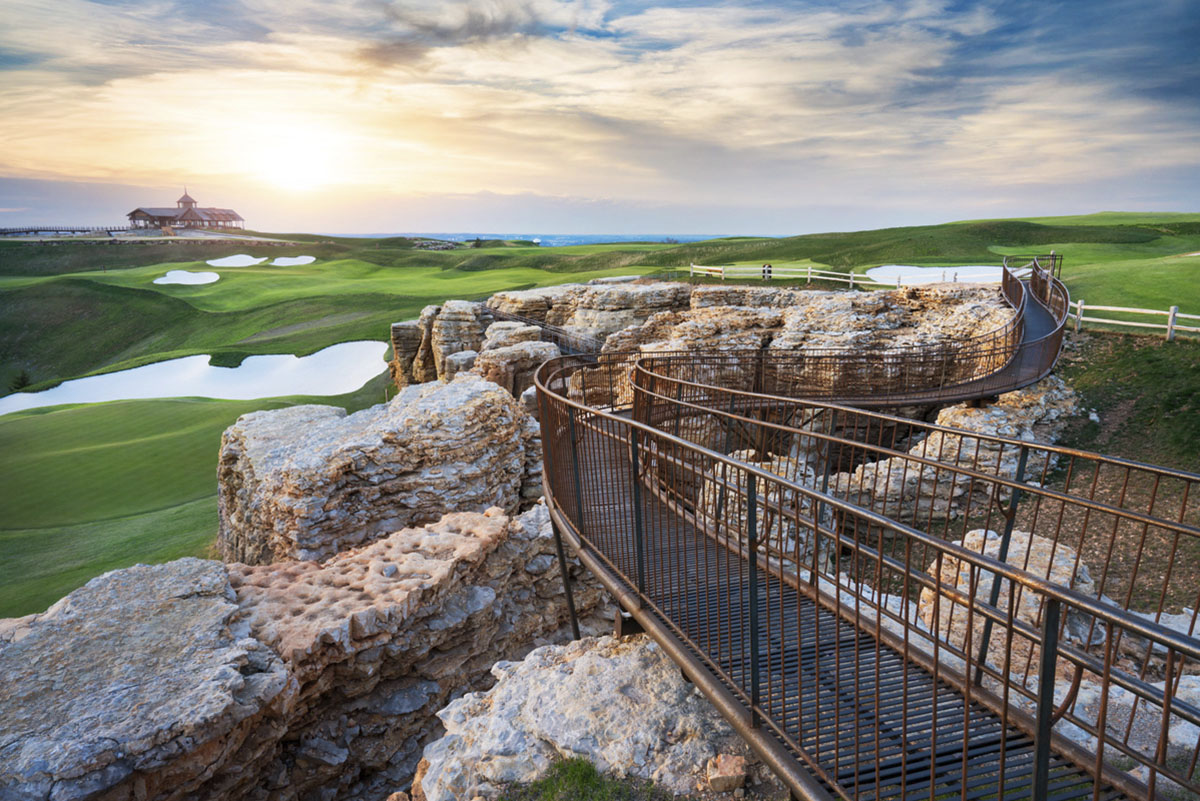 Hole 10 · Par 3
After a scenic walk through the exposed rock, you find yourself on top of the golf course overlooking the 10th hole and clubhouse. Wind plays a huge factor on this stout tee shot with bunkers left and long of the green.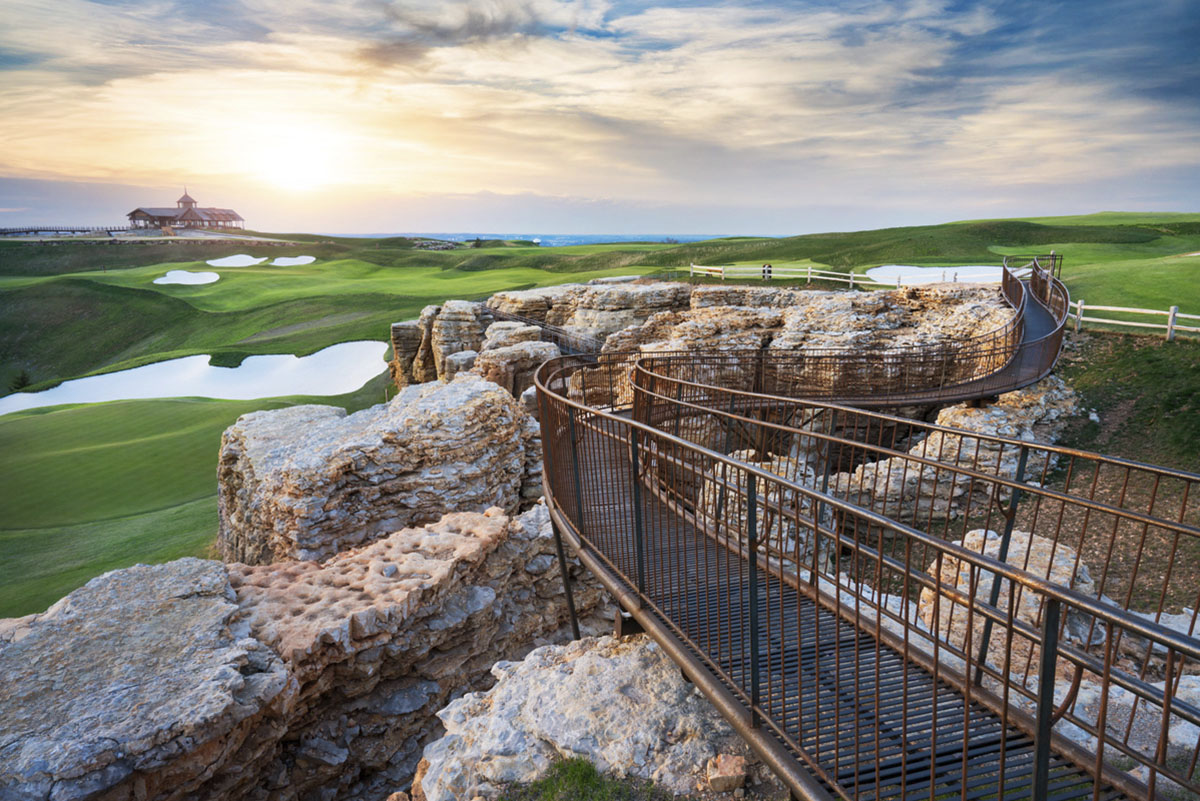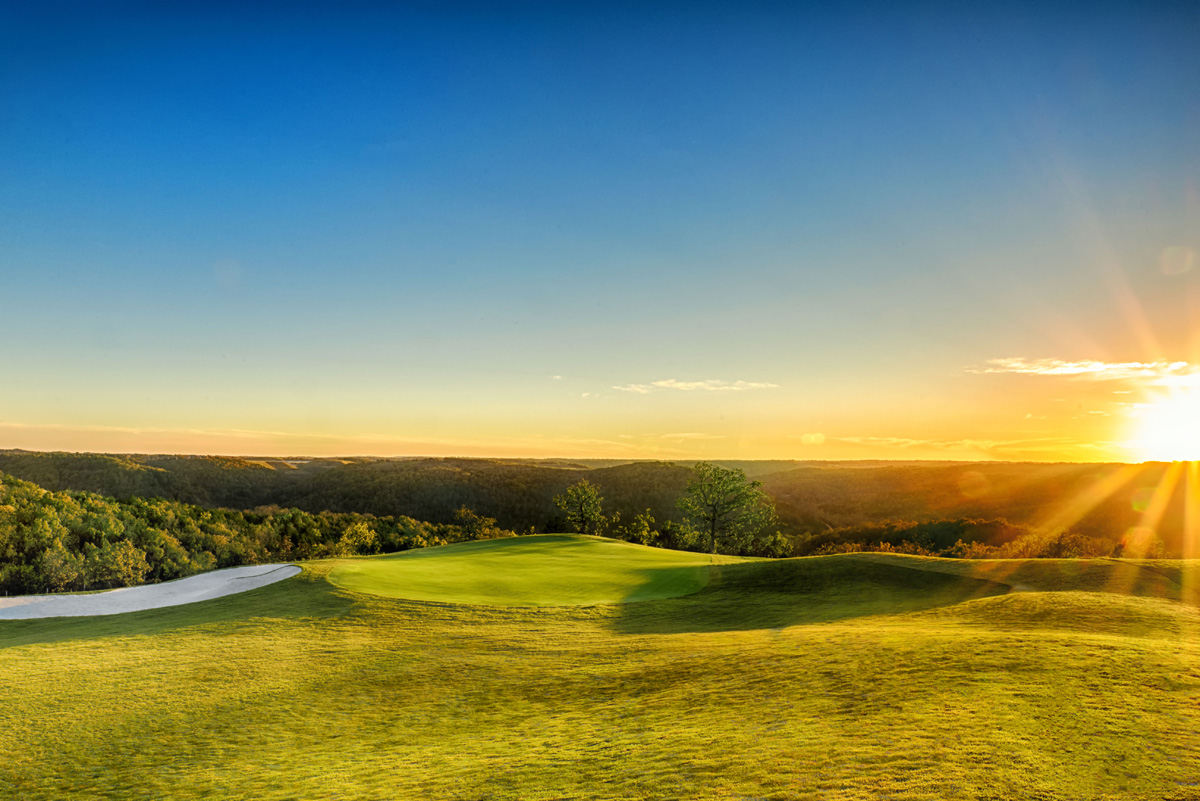 Hole 11 · Par 3
The longest hole on the course. Use a long iron to hit this massive green and avoid the bunkers on the left side. If you bail out short and right, you'll find a safe landing space with a clean line to the green.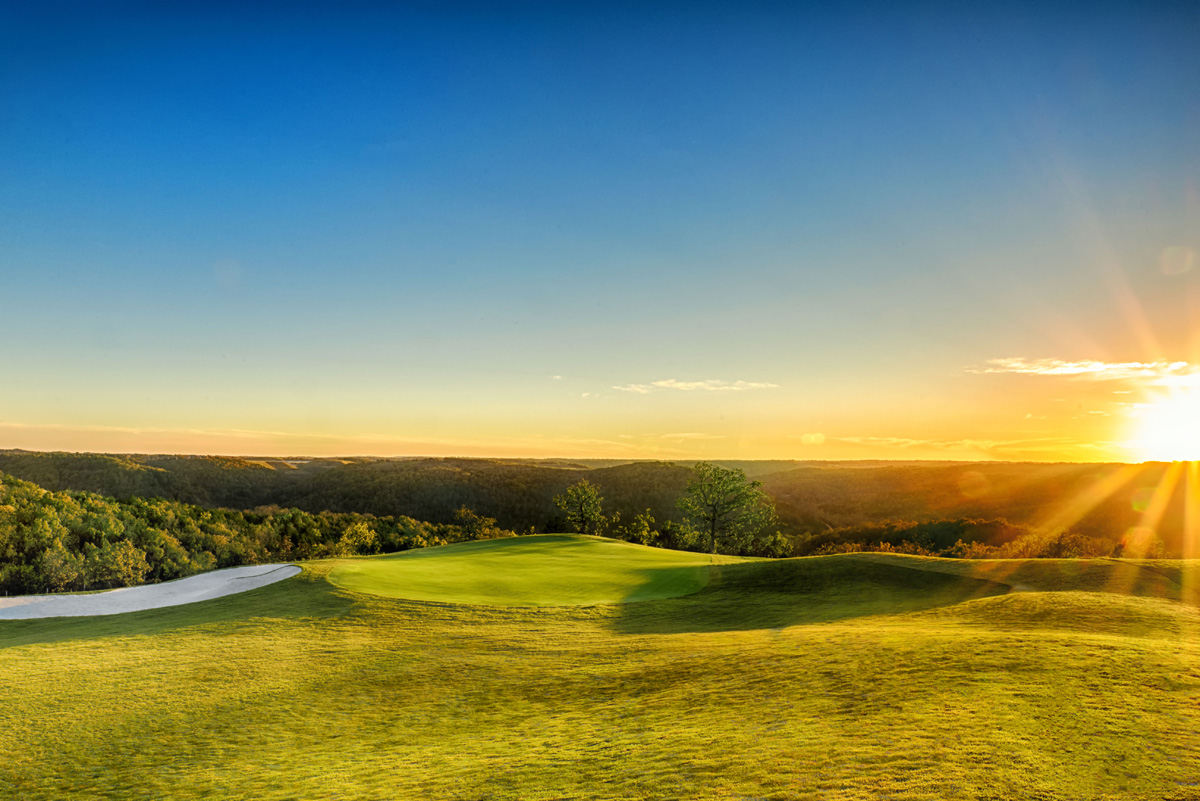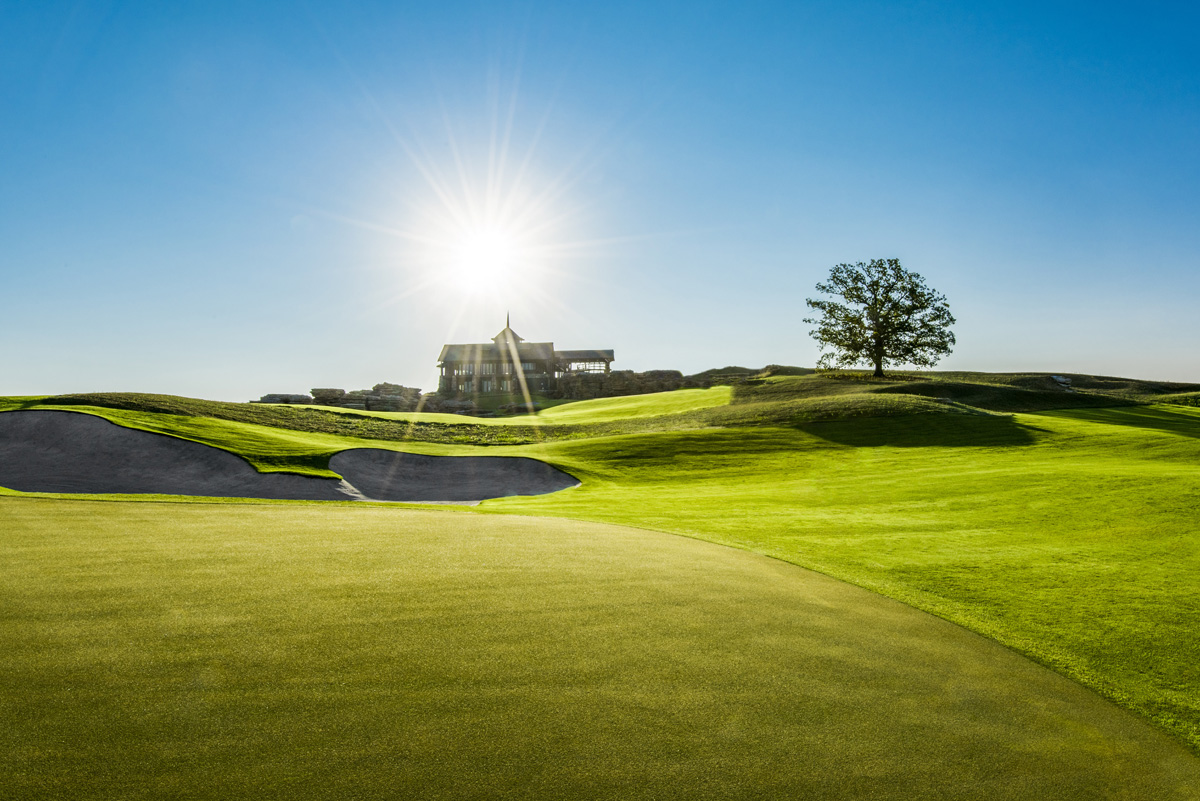 Hole 12 · Par 3
From the tee box, you'll have a beautiful view of Payne's Valley, designed by Tiger Woods & TGR Designs. The #12 green slopes downwards from right to left and is protected by bunkers on both sides.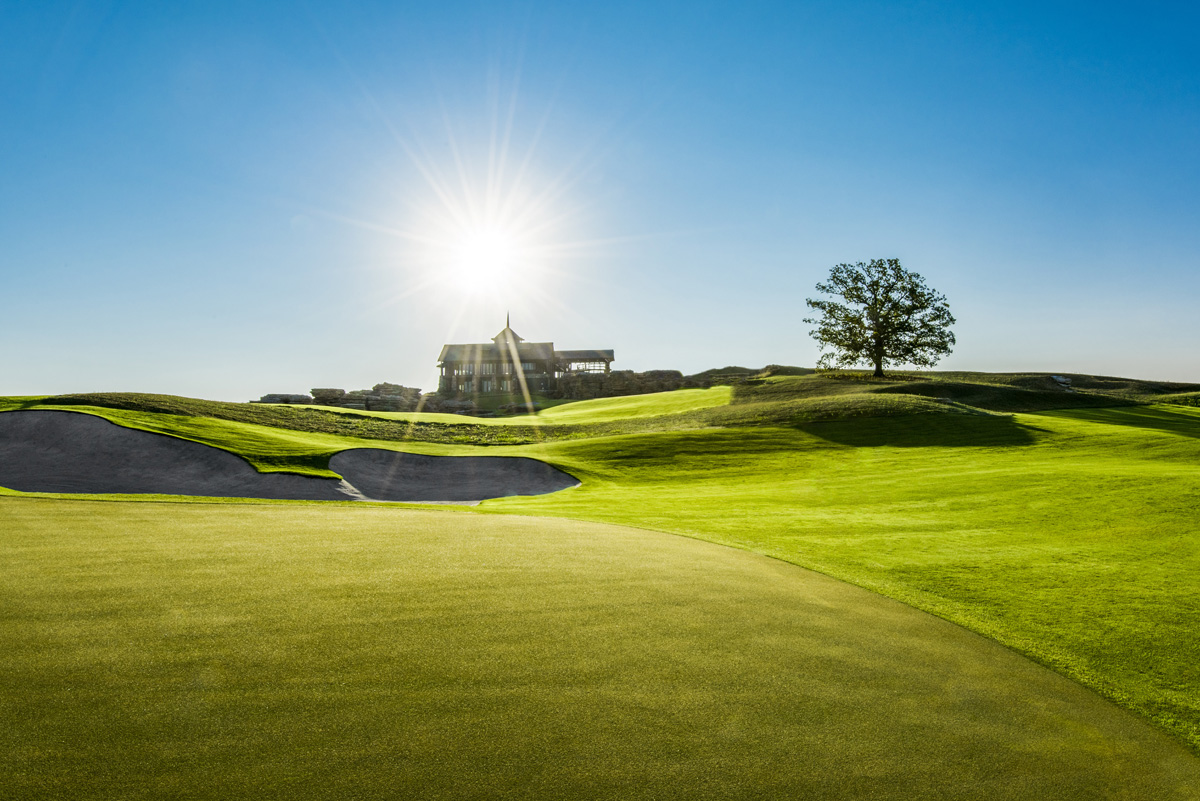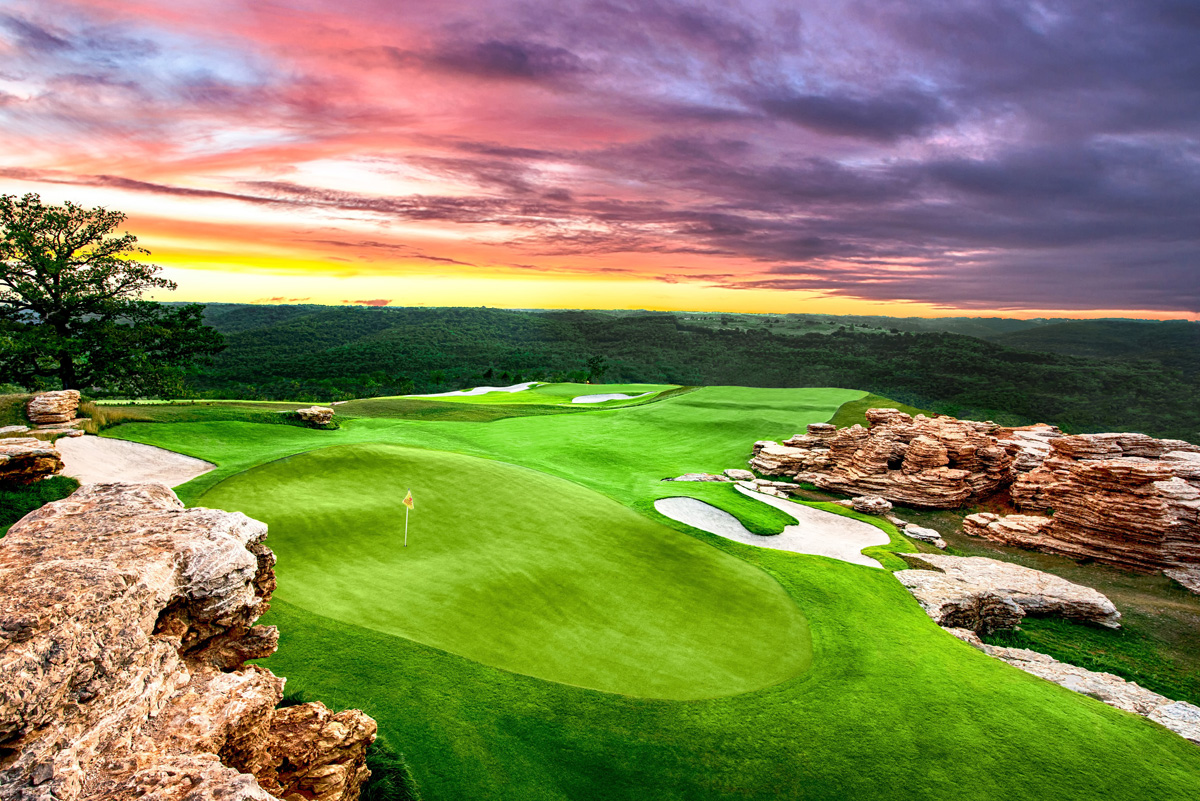 Hole 13 · Par 3
This finishing hole is only 95 yards from the back tees, but the elevated green slopes downwards from back to front. The limestone rock formations and views from the clubhouse make it a finishing hole to remember. Cap off your round with a refreshing drink at the Mountain Top Grill.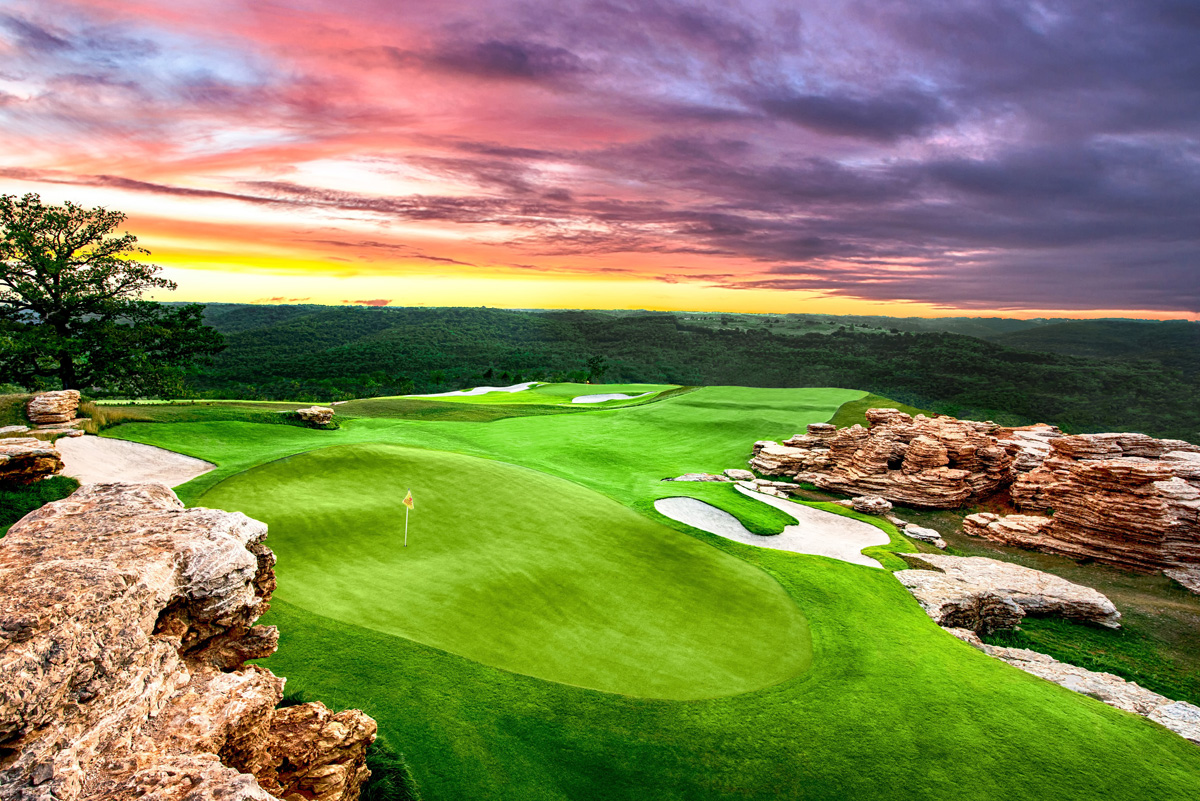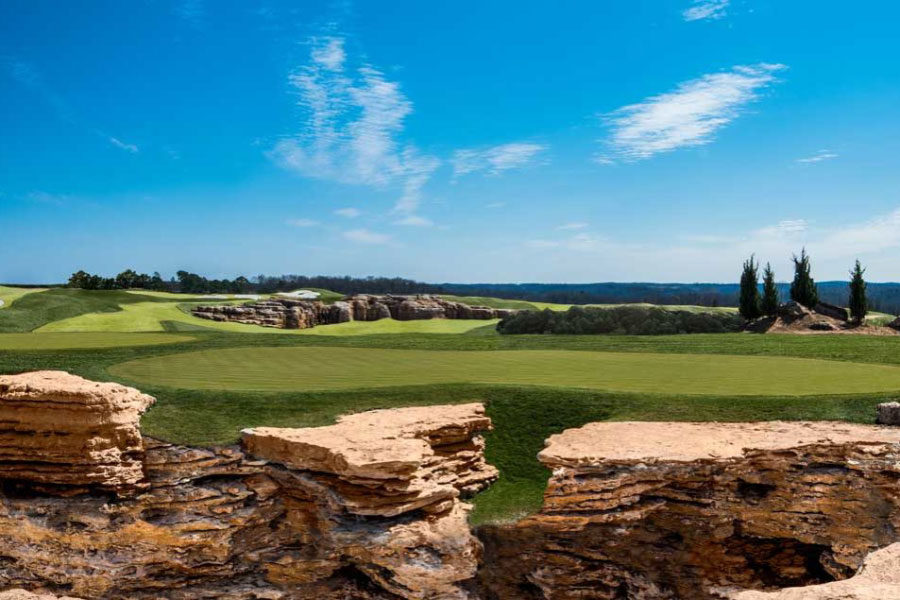 Tom Watson Putting Course
---
Designed by Missouri-native and World Golf Hall of Fame legend, Tom Watson, and inspired by the historic Himalayas putting grounds at the Old Course at St. Andrews, the Tom Watson Putting Course sits high atop the Ozark Mountains. Watson's masterpiece at Big Cedar Lodge covers more than one acre of land near the Mountain Top Clubhouse. The course consists of nine challenge holes sure to test any golfers putting skills. Enjoy a beverage from the Mountain Top Grill as you navigate the greens overlooking the beautiful Mountain Top Golf Course.
Mountain Top Grill
---
Dining at Mountain Top Course
Perched high in the hills, overlooking the Mountain Top Course and Ozark's National Course, Mountain Top Grill is the perfect place to enjoy lunch or small plates after a round on the links.
HOURS
Visit Mountain Top Course
---
Mailing Address
612 Devil's Pool Road
Ridgedale, MO 65739